Happy New Moon in Leo!
Today's NASA image, dated August 13, 2015, is from the Gemini Observatory's new Gemini Planet Imager. It has found the most solar system-like planet ever directly imaged around another star.

We are not alone! Especially not in the Universe!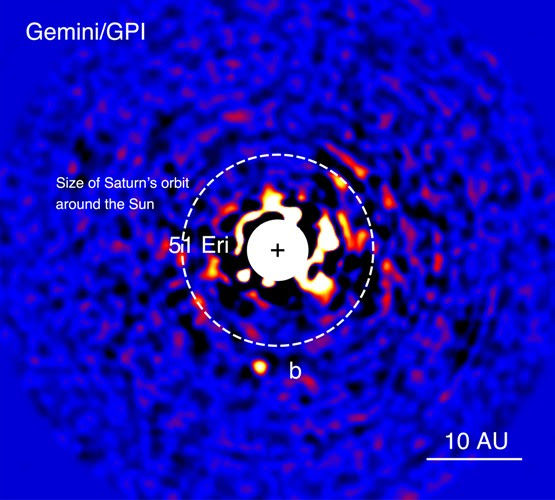 Three New Moon Haiku
Moon Death
Mourn the losses deep!
Moon death carries them down.
But wait; look west. Birth!
Moon Dark
Rest through the night deep;
No struggle, no pain – Moon dark.
Light returns – renewed.
Moon Drift
Celebrate the gain.
Moon drift carries her beyond.
Light breaks to the west!
©2015 Richard W. Bredeson. All rights reserved.

Today's New Moon in Leo, when the Sun and Moon are together in the sign, occurred at 10:53 amEastern Daylight Time (EDT). The New Moon is the time to invite new energies into your life. What have you been seeking? Now is the time to welcome that into your life.
Leo is the sign of creativity and love. In what way can you express yourself creatively? This doesn't necessarily mean that you have to go out and paint a picture but find YOUR expression – art, music, problem solving, knitting, etc. Roar like a lion because you love what you are doing!
Venus is playing with the Moon and the Sun in Leo and is showing us the importance of embracing the Divine Feminine within. It is time for all of us to live in a collaborative way, not in competition with each other but, rather, finding how we can support others while making our own unique contribution.
Do you know who you were born to be? Are you living your purpose? Claim it now and live life fully! Be who you really are.
If you are looking for some help with this search, be sure to claim one of the Summer Special appointments! I don't usually offer single sessions and this limited offer will end at Labor Day. Here's the link: Summer Special
The John of God Crystal Healing Bed will be here in Severna Park on September 6. There are still some slots open if you would like to experience this amazing healing. Kathy South trained in Brazil at the Casa of John of God and takes groups there several times a year. She will be at our house on September 6 with the technology for you to experience the healing. Contact me if you would like to take one of the remaining times.rosemary@thescientificmystic.com
Stay tuned for info on the telesummit coming up in October! Spiritual Practices of Successful Entrepreneurs. More details soon.
On a personal note, thanks for all the birthday wishes! We had a fabulous time with family, celebrating for days together. I am not a fan of hot weather but I do love celebrating the Sun in Leo!